Company History
Reads Moving Systems, Inc. began its journey in the moving and storage industry in 1937. Based originally in Hatboro, Pennsylvania with just a few trucks, Reads built a strong foundation based on attention to customers' needs and a commitment to quality service. In 1954, Reads became affiliated with its first major van line. With this carrier relationship, Reads prospered for the next ten years, establishing a reputation nationwide for superior service.
In 1964, when approached by Atlas Van Lines, Reads became an agent for the van line. As a result of this 55 years relationship, Reads has maintained a position as one of the top-ranked Atlas agents in terms of sales, hauling capacity, and quality of service. Once a small, home-based business, Reads has evolved into a full-service moving and storage operation with offices in Pennsylvania, Florida, and Georgia.
Company Profile
Reads Moving Systems is an interstate Agent of Atlas Van Lines, and operates from several locations up and down the eastern seaboard. Our approach to delivering a consistently superior level of service is assured through more than 300 well trained employees, our fleet of trucks and equipment, and the different Reads locations, which oversee every personal move and corporate relocation right down to the smallest detail – an organizational structure and level of commitment that has repeatedly earned Reads a customer satisfaction rating that exceeds the Atlas "World Class Standard".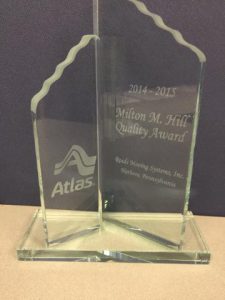 Our Hatboro, PA and Jacksonville, FL locations have earned Atlas Van Lines Highest Honor… The annual Milton M. Hill Quality Award. Hatboro – 2003, 2004, 2005, 2007, 2008, 2009, 2010, 2011, 2012, 2013, 2014 & 2015. Jacksonville – 2002, 2003, 2004, 2006, 2010 & 2015. Quality is more than just a word, it is part of our day to day service and commitment to our customers.
Our employees are the difference. We are proud to have created an environment that fosters a positive work ethic and a genuine concern for each customer. Through properly training each member of our staff for their particular responsibility and empowerment with our industries latest equipment and technology, our team of seasoned professionals are positioned and highly qualified to provide a broad base of moving and relocation services that are sure to offer our customers the best relocation service possible.
As an interstate Agent of Atlas Van Lines, Reads has the ability to implement what is termed as Reads "Self-Haul Prerogative". Atlas is the only van line that allows its agents complete authority to decide who will participate in any state-to-state move. This flexibility allows Reads to maintain total control of your moves and relocations from beginning to end. Reads ability and commitment to "Self-Haul" using our own equipment allows for tighter control, a more consistent level of quality service, and an unprecedented ability to keep our customers completely informed every step of the way. Reads Moving Systems operates more than 350 pieces of equipment consisting of tractors, trailers, straight trucks and other support vehicles with an average age of four years old. As this equipment is critical to our ability to effectively and safely serve our customers, we employ a team of full-time mechanics to oversee it, and to assure that it is always operationally safe and ready for service.
To further our capabilities and serve virtually any move or relocation requirement, we operate multiple warehouses that offer more than 320,000 combined square feet. In the southeast, our Jacksonville facility accounts for 165,000 square footage of storage, including 8,800 square feet of air conditioned storage for our customers' high value items. Each of our locations are also fully equipped with docks designed for loading and unloading autos, boats, and other large equipment and or machinery.
Overall, Reads Moving Systems has been refining the way we do business for more than 70 years. In that
time we've committed ourselves to growing an organization with deep roots in the belief that quality service to the customer is paramount to the continued success and growth of Reads Moving Services. Trust the name that has become the benchmark in how moving is done.